Rugs 2030, 2031, and 2032 are new, and they were purchased together. The material, structure and colors in all three are the same.
Rug 2030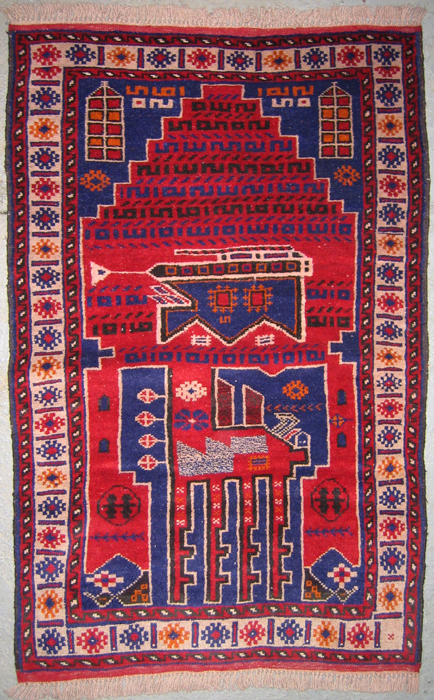 Rug 2031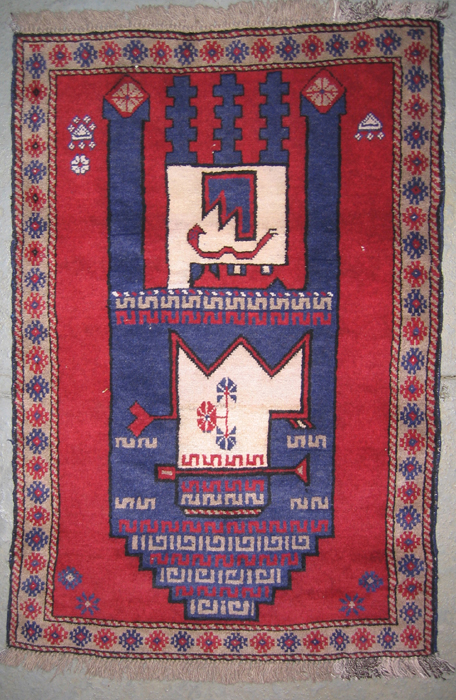 Rug 2032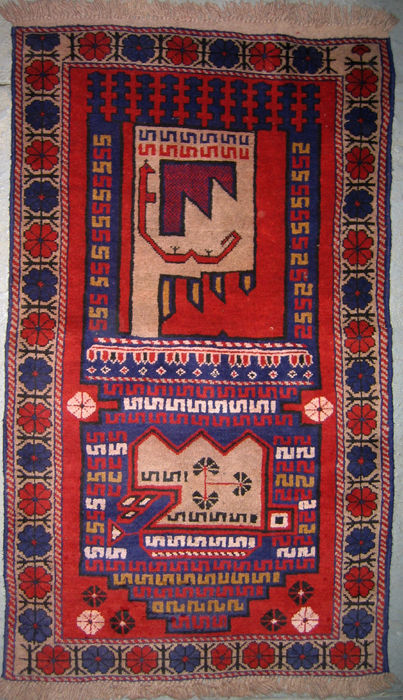 Mihrabs and Direction
Which way is up? The weaver's top is "up" in each picture. The mihrab in this style or pattern is the squiggily line on top of the gun barrels, as in rugs #900 and #2025, so not the obvious point on the other end. The squiggily lines in 900 and 2025 are at the weaver's top and the images are orientated that side up, including border tanks in 2025. Rugs 2031 and 2032's mihrabs are consistent with gun barrel top, but 2030's two column orange and yellow checkered towers are like Seh Mihrabi prayer niches, whereas 2031's mihrab is like the mosque minarets we often see indicating up. Furthermore, the tank orientation jibes with gun barrel mihrab in 900, 2025, the three rugs in More Mysteries, but not in 2030, 2031, 2032 and the bottom rug here.
The bottom line, the gun is generally the top, but not absolutely, and the black shape makes the rug sort of reversable. More important is the design's plasticity and our witnessing it change from one state to another.
Motifs
More mysteries indeed. We clearly have an anti aircraft gun, a tank, as well as two kinds of grenades, small arms, various helicopters, mostly in the older examples.
But, what is the primary black shape with four round corners and pointy end opposite : goat's head? map? falling bomb? I propose the black four corner form with a pointy end and a gun on the other, form represents the chassis and wheels of the gun. The four corners are the wheels, the minarets are the shock absorbers and the pointy end is the tow package.
Hi-res image of zpu-4
More helpful images
One more good example
The Tank
2030 clearly shows a tank in its "top" half. But 2031 and 2032 show a cute stylization of the tank into a duck-like form, and you've got to love the three flowers.
The three new rugs, 2030, 2031, and 2032 (as well as the lower rug in Ragged Mihrabs, all have the jagged rectangle in the body of the gun. Any ideas? 2025 and 900 have 'bent Ys' in the same places. While this 'bent Y' motif is a common field filler, or tertiary motif, the three ends of the Y approximate the three jagged points of the rectangle. In 2031 and 2032 below the jagged rectangle is a snake the previous owner and I agreed.
Rug #2025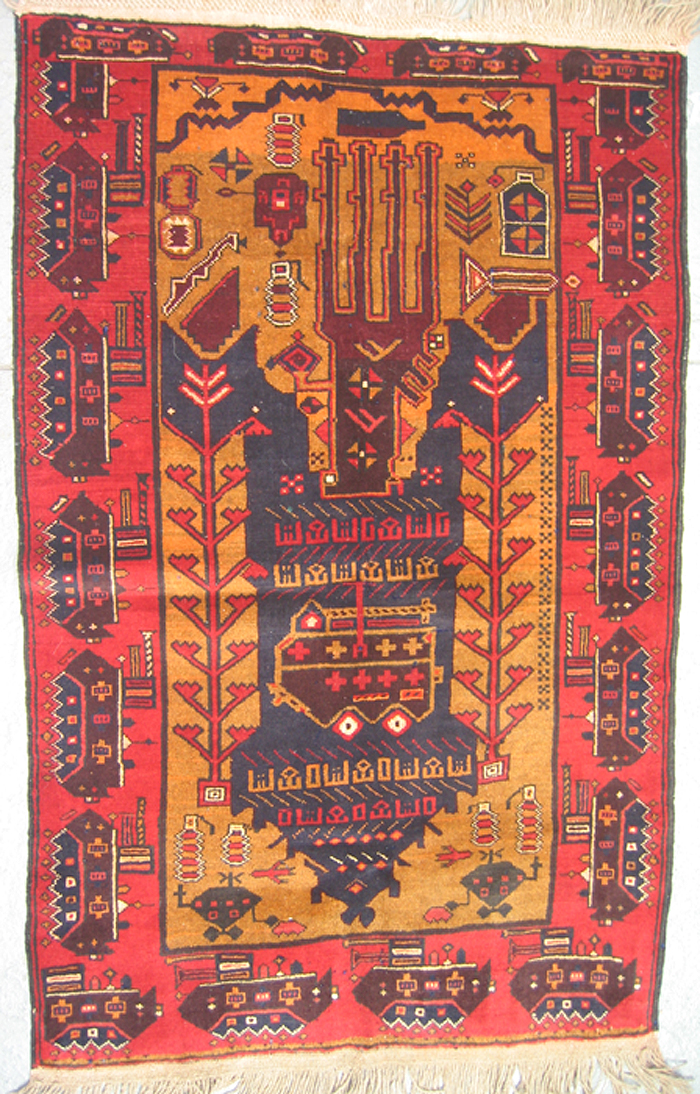 Rug #900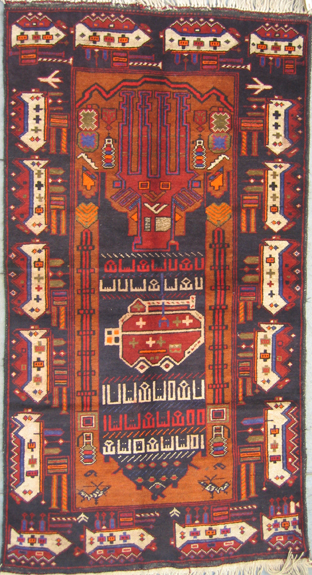 (note seat shape in 2030, here and here and:


(shout out to Ron) Whereas the similar motif in certain Red Soviet Hand Rugs (like Rug #262, Rug 321, respectively below.)shows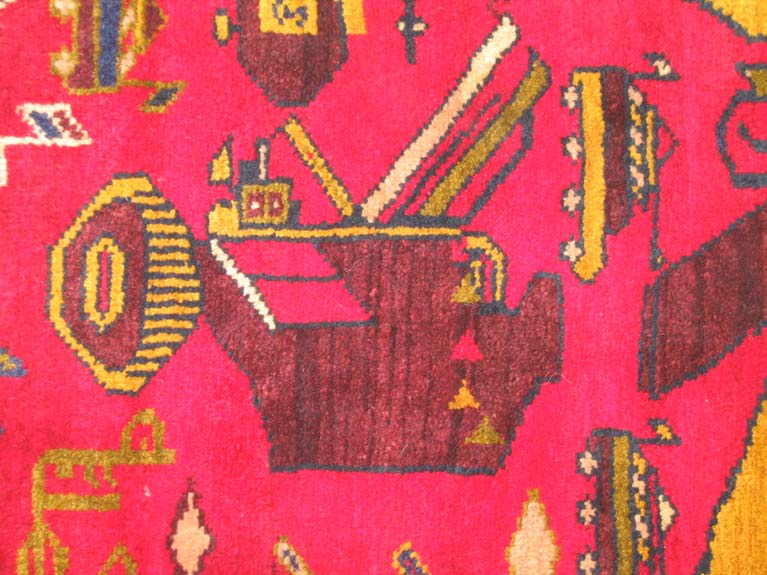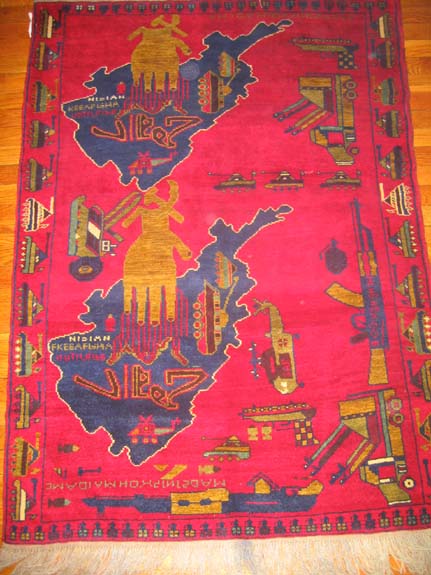 The point is, 2031 and 2032 are very difficult to identify as war rugs.
The