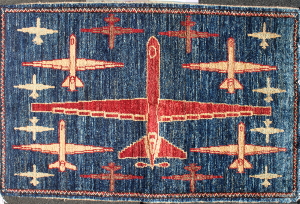 ID#:1757,
Dark Blue Reaper Drone War Rug with Traditional Turkmen Border
This rug received by warrug.com directly from the weavers in Pakistan. It's materials, workmanship, and condition are all excellent.
This rug is a slightly different twist on the other drone rugs with a red, white, and blue palette because it's dark blue field. The planes outlined in red form a central medallion with a few light teal planes outlined in white.
The rug was rotated during photography to show the light and dark side. When the planes' noses are pointed up it's the dark side, when the nose is pointed down it's the slight side. Pile knots, when they are tied, are pulled down and remain oriented down for the life of the rug, and the angle of the threads give the rug a light and dark side. Basically, when the threads are pointed towards the light one sees the dark side.
This is a special rug.