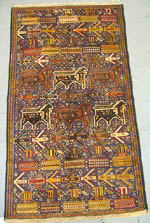 ID#:883,
Thin Border War Rug with Lions
This older pre-Taliban war rug is in excellent condition. This war rug was woven by a woman of Zakini Beluch descent. This sub-tribe is known mainly for their excellent weaving, clever design patterns, and use of the finest, high-quality wool. This is a wonderful example of a Zakini Beluch war rug.
The colors used throughout this rug are traditional and beautiful, with outstanding combinations. The wool used is the finest wool in all of Afghanistan and will only improve over time, ensuring enjoyment from generations to come. This war rug is rich with traditional Beluchi symbolism and motifs, and the center two rows of lions makes this rug truly stand out. This war rug is sure to please any collector of fine art.