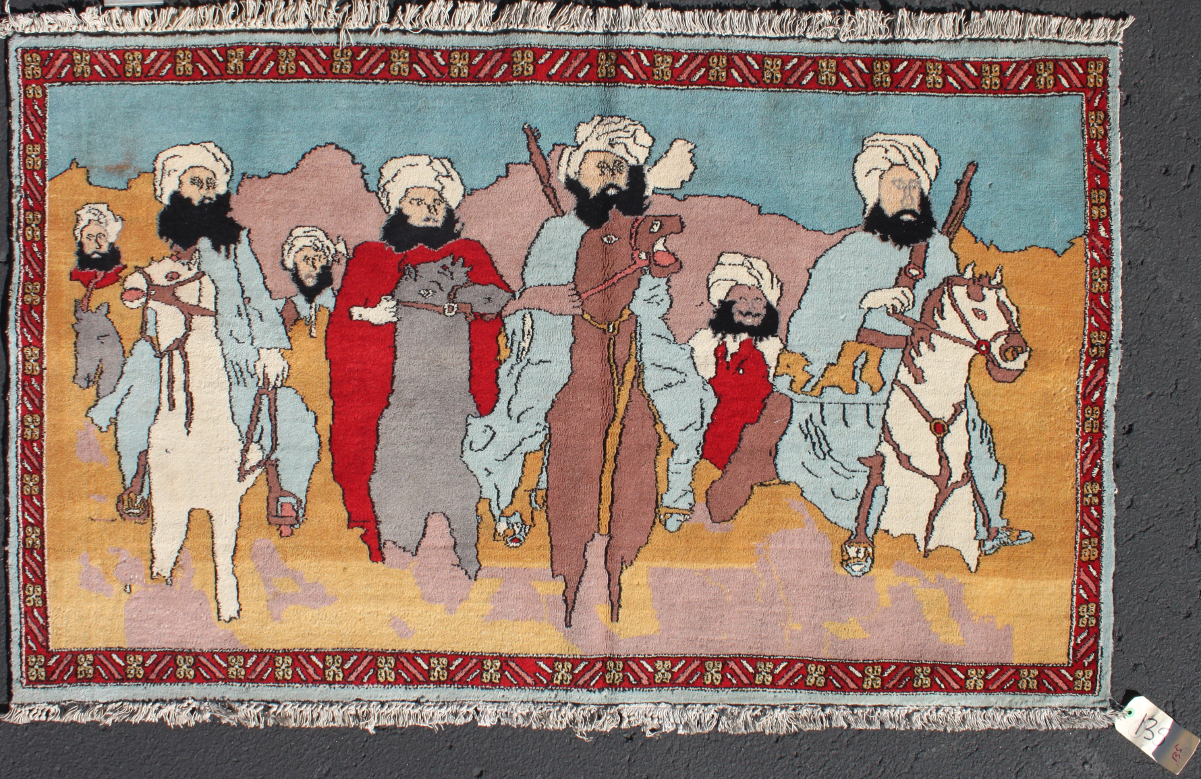 Horseman Pictorial
Exhibited at:

ID# 135
Date: Mid 1980s to early 1990s.
-:-
Size 60 x 36 inches
(152 X91 cm)
Knots/Inch:
16 h X 14
Origin: Afghanistan / Pakistan
Style: -Horsemen War Rugs,
Other examples of this style
Tribe: Turkman
This is a rug about Afghan Mujahadeen cavalry. Men on horseback is a very old pattern both in Afghanistan and Iran. There are hunting rugs with men with swords and bow and arrow. There are portrait rugs of kings on horseback, as well as war rugs with men with Kalashnikovs on horseback. We have heard, but not seen, that there are rugs depicting US special forces on horseback. There was a unit of US who have reached mythical status in Afghanistan for the fighting they did on horseback in 2001.
This is an older, probably Pakistani rug, but it may be from northern Afghanistan. It is very finely knotted, it has nice colors, and it has good soft wool. The only drawback is that it needs to be washed.
Similar to this image.
Wool: Fine fibers, soft, thick.
Sheen: Medium
Handle: Firm, solid
Selvedge: Black wool thick single cord overcast.
Fringe: Small cotton kilim with unusual closure knot and one inch fringe.
Pile: 5mm wool
Warp: White cotton.
Weft: Double wefted: one pink, one white.
Warp Depression:Full depression