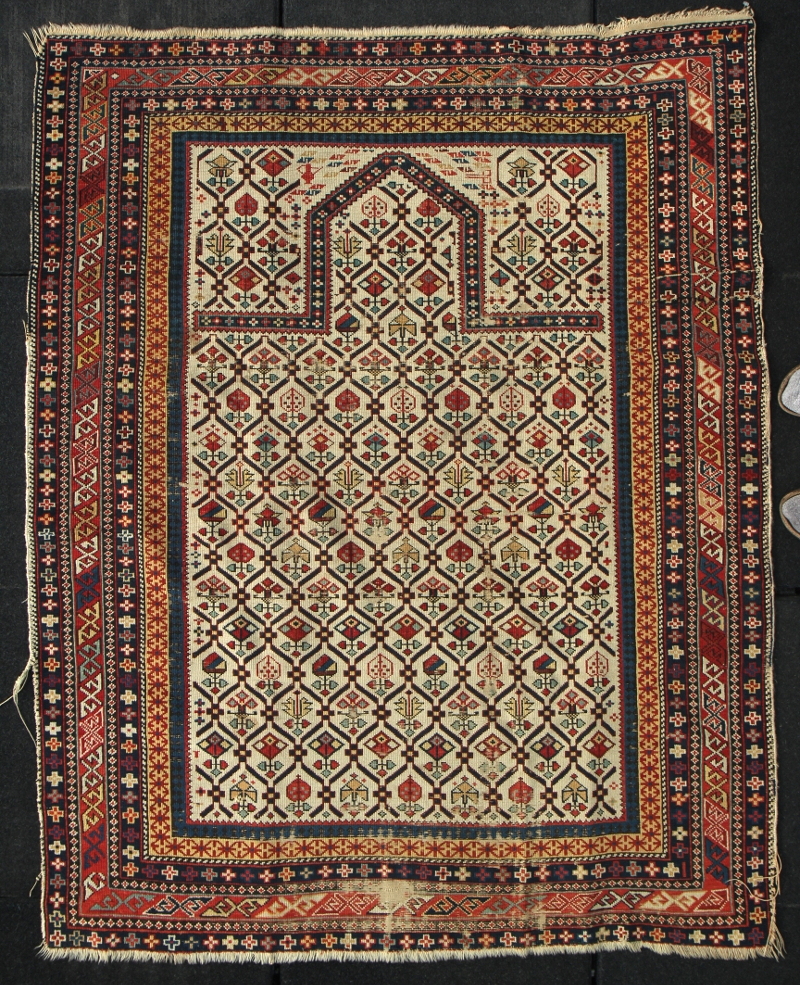 Antique Daghestani Prayer Rug
Exhibited at:

ID# 2122
Date: Late 19th Century
Price:$ 3500
Size 51 x 63 inches
(130 X160 cm)
Knots/Inch:
10 h X 13
Origin: Caucuses: Dagestan
Style: -Non War Rug,
Other examples of this style
Tribe: Caucasian
The rug has a special quality. The figure, represented by the pattern inside the mihrab, is the same as the ground, represented by the pattern outside the mihrab. This suggests the human and the world are made of the same worldly stuff, but the prayers emanating from the head of the figure change the world and break down the lattice pattern found inside and outside the figure. Basically, prayer is the difference, and prayer transforms the world.

Antique rugs are not the speciality of Warrug.com, but this rug is in good condition given its age. There are some issues documented in the photos: low pile, wear to the foundation, oxidation of the dark browns (typical for a rug of this era), minor bleeding of bright yellow (see photos of back), selvedge damage and repair, end finish repair.

The rug is clean. There is no bleeding around the red, and when blotted with a wet, white cloth, no red appears on white.
Wool: Excellent. Stong, and dense. Low pile in places, and some places where pile is gone and only the foundation remains.
Sheen: Excellent
Handle: Floppy but strong. The finely knotted rug is flexible but tough and strong.
Selvedge: Damaged in places, and reattached in places. See photos. Generally, it is overcast in white, but seven individual warps are exposed in places. There are places where the selvedge has been re-overcast and reattached.
Fringe: There is a short plain weave blond kilim at the top, but the bottom has been reduced to the first row of knots, and then closed with a loose overcast.
Pile: 2 mm wool
Warp: Blond wool
Weft: Blond wool
Warp Depression:Slight warp depression, about 30 degrees, with the right hand node shifted slightly down the warp, about 1/64 of an inch, or a quarter of a millimeter.