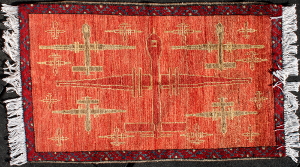 ID#:1752,
Light Burnt Orange Predator Drone Rug
New, shows no signs of any visible wear, white cotton trim is clean and bright. The rug possesses strong abrash, with a variety of different rusty orange colorations. The selvedge has slight indentations, such that it is not a perfect measured square, testifying to its handmade, non-factory construction.

The primary armed predator drone, with its almost pink color atop the rusted orange field, has a box-like shape within its head/cockpit, giving the apparent sensation of an eye glancing downward, watching. The secondary predator drones, also armed, are a deep grey color, trimmed in the same beige color as the primary, central figure. A set of smaller drones, in the same color as the primary, offer a contrast in orientation and pigmentation. You will notice of this set, some are slightly smaller than others, with their tails somewhat differently shaped, seemingly in possession of different or fewer armaments. Deep blue triangles, set in an ascending and descending pattern with one beige shape in each segment, frame the rug nicely.