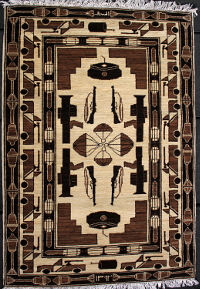 ID#:1586,
Stinger Missile War Rug Made from all Undyed Wool.
This is one of seven rugs we received in early 2014. These are the only examples of this pattern. The imagery is an inventory of weapons used in Afghanistan during the past 35 years, ranging from the Enfield 303's used in the early 1980s, through the land mines, grenades, and artillery that later was repurposed for IEDs, to the stealth drones of the past few years.
The condition of this rug is new and excellent. The quality of the materials and craftsmanship is also excellent.
This is one of the last 4 of these rugs, of which only three will be sold so two can be kept for our archive.