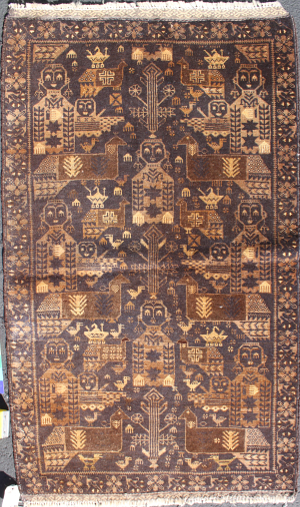 ID#:536,
Blue War Rug with Women, Birds, and Small Tanks
Vintage rug. Please see photos for condition report.
This rug exhibits excellent drawing as well as showing the plethora of images of the tribal womens daily life: birds, peacocks, flowers, weaving combs, as well as a few small Soviet tanks. In addition, this rug shows people, most likely the weaver and her small child. This is a powerful means of signing authorship as well as showing the weaver in the context of the images of her life. This powerful folk art was woven in a village during the Soviets war with Afghanistan. Had the artist not been so brave, we would not have this important reminder of her life. Several years after this rug was woven, the Taliban came to power and began enforcing Sharia law, which strictly banned any depiction of living things through art. The woman who wove this had to hide it for many years, or face death by stoning. But why risk life for a rug, one might ask. It is at this very juncture that a rug becomes art. Through the courage and determination of the artist of this rug, she and her family can continue to live on through the hearts and minds of all who set eyes on this beautiful piece. In this rug, we get a rare glimpse of the life of the artist. We see her combs, flowers and birds. We see her depiction of her family in the people she created so masterly. Strength was particularly important, because hidden among these images, in almost a whereas Waldo- like fashion, we see elements of what was certainly also part of her very immediate existence, Soviet tanks. She displays them like many of the artists of her time, as she showed them in a benign way. We can never forget her story and the view of life she continues to provide.