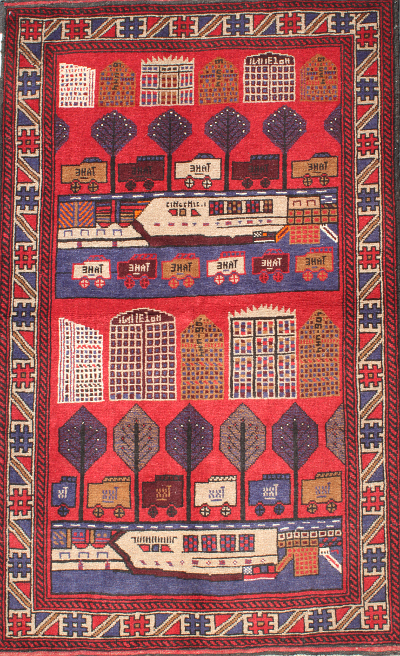 ID#:471,
Land Mine War Rug (Like Pictorial Book Plate 20)
New, contemporary production from 2004. A representational motif comprised of trucks, trees, buildings, and landmines is depicted twice in the rug. Six trucks drive on a blue road across the composition, above which sits an underground view of the road above containing different objects (land mines?). Five trucks drive across this road, with a blue tree between each. Six buildings sit in the background on a red field.
The main border is a red, blue, and maroon pattern of alternating pound symbols, triangles, and diagonal shapes on an off-white field. The guard stripes are a black and red alternating diagonal cord-like pattern flank the main border.
Similar to this rug.
For exhibition at Miami University, museum hired amish sewers to tack on canvas loops through which dowels could be inserted to hang rugs on wall.