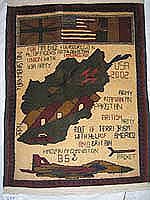 ID#:254,
1
The condition of this new war rug is excellent. One note, there is a variation in the sheen running down the middle of this war rug. It can be seen running vertically half way down the rug from the border between the US and Afghan flags. This seems to be a clipping issue or a folding issue. We do not expect it to be permanent.
This Tora Bora war rug showcases the American planes, certainly our pride and joy (that's for you guys out at Edwards, we bet you WISH you had that red plane ;-)
This war rug depicts not only the U.S. and Afghanistan flag, but Britains as well. The weaver is also declaring the union of not only Britain and American forces, but Afghan forces as well to root out terrorism.