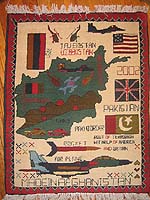 ID#:303,
F-16 Afghan Map War Rug with Scattered Flags and Three Hearts in Corner
This new Afghan war rug is in perfect condition. Out of the many Tora Bora map rugs we have seen at warrug.com, this is one of our favorites. The weaver of this war rug is exceptionally talented. The images depicted are strong and powerful, as she has weaved them with unparalleled accuracy. An example of this is her use of colors to demonstrate different parts of an object that she sees. Instead of an outline of a pickup truck, she uses multiple dyed yarns to showcase the wheels, hubs, windows, and even a person in the cab of the vehicles. A small, but interesting point is the weavers naming of what she has drawn with absolute clarity. She has taken the time to expertly label the ""air plane"", ""rocket"", and ""cars"".
Another interesting point is the inclusion of so many different flags, including Pakistan's. Not only does the weaver label the locals of the countries of Afghanistan and Pakistan, she also points out the border of Pakistan, of which we have never seen before. This is a crucial element in the War on Terror, since the US has often speculated that Osama bin Laden and his followers have been going back and forth between Pakistan and Afghanistan. Many of these types of war rugs have all of the surrounding countries listed, but not this particular rug. It only points out Afghanistan and Pakistan and the border between them, with a nod to the original invasion by the soviets with naming Uzbekistan and Tajikistan. Almost suggesting what our boys over there have known all along. That the terrorists we are looking for and its war is not just in Afghanistan, but they have been busy searching them out, cave by cave, in Afghanistan, along the border, and into Pakistan.
Lastly, although this is only theorized by the staff of warrug.com, is the meaning of a small symbol of a heart. We have seen a heart before, actually, on rug # 277, and it stuck out as odd then. However, we have known that many weavers add a sort of 'signature' on their rugs. Sometimes, it is an actual name, other times, it is an ambiguous marker. Unfortunately, even we are sure many 'signatures' have gotten by us, although we spend a lot of time inspecting each and every war rug. There are three hearts located on the bottom right of this rug. It is in a distinct pattern. We have seen a similar symbol, of the same size, color, and area in rug #277. That war rug was clearly not woven by the weaver of this rug, and there is a variation of the 'signature', Our guess is that perhaps the weaver of this rug either mentored the weaver of #227, was in the same family, or maybe in the same refugee camps. Either way, the weaver of #277 clearly tried to emulate this weaver. That is a wonderful example of an art being passed down through generations.