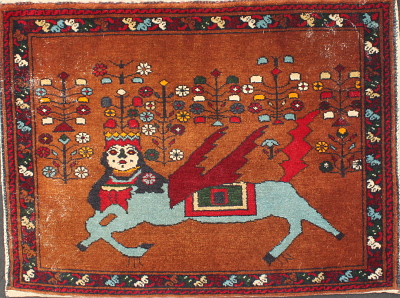 Al Buraq Bolescht, Bag, or Pillow
This a bag with a pile front and a plain woven back which typically would be used as a seat cushion on the floor. The pile side shows a single blue Al-Buraq with red wings and tail. The mythic figure sits in the center of a beautiful brown field decorated with flowers. A classic Turkmen border frames the composition.
Better photos towards the bottom. Also, please note there is some crusty schmutz on one corner which sits only on the surface of the rug.

The pile face of the bag, or bolescht, is backed with a plain plain weave face, which is attached at the selvedges. The pile and plain weave are one textile which is folded, then the sides are sewn up to form a pillow.
26 x 19 inches
66 cm x 48 cm

$450
2084