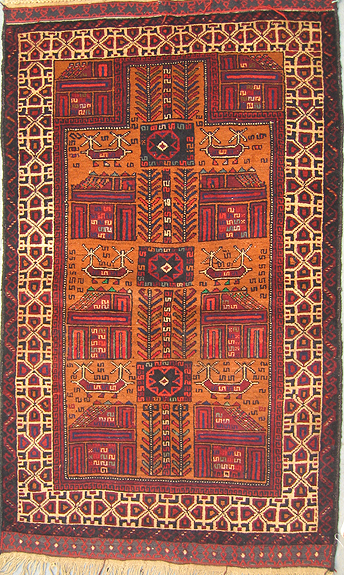 Prayer War Rug
Exhibited at:
Miami University Art Museum - 2007-09-07
21 Items - 0000-00-00
Gund Gallery at Kenyon College - 2017-05-26
John Jay College of Criminal Justice, President's Gallery - 2010-08-17

ID# 957
Date: 1980s
-
Size 34 x 57 inches
(87 X144 cm)
Knots/Inch:
8 h X 9
Origin: Afghanistan
Style:Prayer War Rugs
Tribe: Baluchi
This red and orange prayer rug features a series of 6 helicopters landing on what appears to be some sort of buildings or gardens. Running down the middle of the rug is a series of medallions, perhaps also gardens, connected by a geometric stripe and branches of leaves.
Geometric Greek-pattern inspired adrskni mihrab running around the field is interesting, cutting off the top two corners of the field.
This is an overall solid and good quality rug with a lot of interesting features.
Wool: Soft, short, high quality
Sheen: Shiny
Handle: Floppy
Selvedge: Tightly braided black goat hair with good coverage
Fringe: Tan fine wool plain weave with nicely woven grey and red geometric kilim ends
Pile: 6 mm
Warp: Fine looped closure tan wool
Weft: Grey cotton thread
Warp Depression:10 degrees to Full