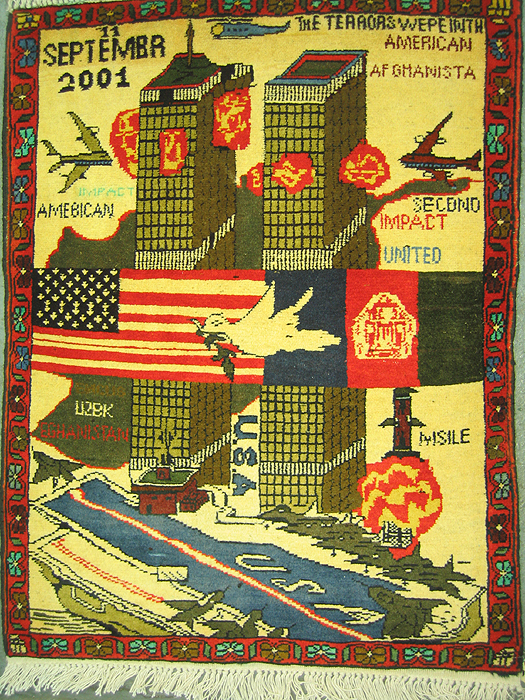 World Trade Center War Rugs
Exhibited at:
Miami University Art Museum - 2007-09-07
Gund Gallery at Kenyon College - 2017-05-26
Davidson College - Van Every Smith Galleries - 2009-05-15

ID# 553
Date: 2002
-:-
Size 24 x 32 inches
(61 X81 cm)
Knots/Inch:
12 h X 14
Origin: Afghanistan
Style: -World Trade Center Flag Banner War Rugs,
Other examples of this style
Tribe: Turkman
A straight-forward and heavily propaganda influenced depiction of the 9/11 attacks on the World Trade Center. The World Trade Center is depicted with flames erupting from the points of impact with the two planes approaching the towers. A popular image in propaganda, an American flag is displayed next to the flag of Afghanistan with a dove with an olive branch flying between them. An outline of the country of Afghanistan sits behind the towers. Below the scene sits an aircraft carrier deploying jets and a missile (labeled 'MSILE').
Additional text featured in the rug includes: "11 SEPTEMBR 2001", "THE TERRORS WEPE INTH AMERICAN" (The terrorists were in America), "AFGHANISTA", "IMPACT AMERICAN", "SECOND IMPACT", and "EGHANISTAN"
The grim nature of the main imagery is contrasted with the bright blue, turquoise, red, and green flowers in the red main border.
Wool: Thick, dense, and dry.
Sheen: Velvet
Handle: Thick and slightly floppy.
Selvedge: Black goat hair, black
Fringe: 1/2in plain weave naturally colored cotton
Pile: 5mm
Warp: 1.5in naturally colored cotton thread
Weft: Black cotton thread
Warp Depression:Full warp depression, double knotted