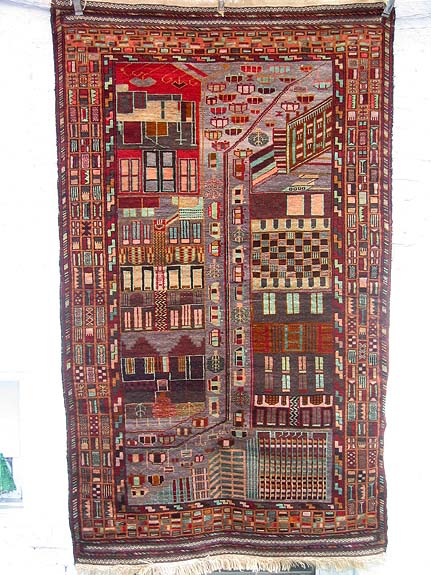 Pictorial Taimani Beluch War Rug
Exhibited at:
Miami University Art Museum - 2007-09-07

ID# 353
Date: 12 to 20 years old
-:-
Size 43 x 72 inches
(109 X183 cm)
Knots/Inch:
9 h X 10
Origin: Afghanistan
Style: -Landscape Pictorial War Rugs,
Other examples of this style
Tribe: Taimani
This war rug is in excellent condition. It has nice color, interesting design, and the best quality wool for a rug of this type.
Like rug 354 this rug has a special wash. The washer's tag reads - W.B.D. Ishan Teppich Washerei - . This wash softens colors and leaves the wool very lustrous and soft.
This rug has a notable kilim skirt. The pile ends are followed by a one inch brown and white band of weft substitution. Around this first kilim band is a ring of pile. The dual texture is very nice and very unusual. Below the band of pile is a second band of weft substitution followed by fringe. This is a very nice touch.
Another notable feature of this rug is the flag motif border. This pattern is seen on some map rugs from Herat. In this case most of the flags are not clearly delineated, but flags are probably the origins of these motifs.