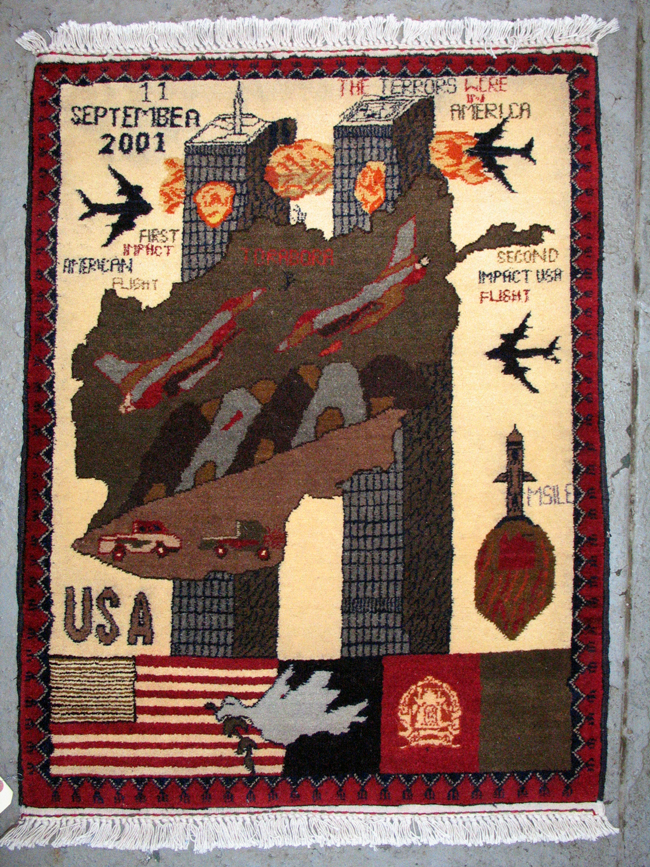 Map Foreground WTC Rug
Exhibited at:
21 Items - 0000-00-00
John Jay College of Criminal Justice, President's Gallery - 2010-08-17
Denison Museum, - 2008-02-15

ID# 2101
Date: 2002
-:-
Size 24 x 32 inches
(61 X81 cm)
Knots/Inch:
13 h X 14
Origin: Afghanistan
Style: -World Trade Center Flag Banner War Rugs,
Other examples of this style
Tribe: Turkman
A straight-forward and heavily propaganda influenced depiction of the 9/11 attacks on the World Trade Center. The World Trade Center is depicted with flames erupting from the points of impact with the two planes approaching the towers. An outline of the country of Afghanistan sits in front of the towers with depictions of trucks on a hill with jets deploying bombs flying above.
Below the scene sits an aircraft carrier deploying jets and a missile (labeled 'MSILE').
A popular image in propaganda, an American flag is displayed next to the flag of Afghanistan with a dove with an olive branch flying between them. Unusually, this banner is at the bottom of the rug as opposed to in front of the towers.
Wool: Thick, dense, and dry.
Sheen: Velvet
Handle: Medium floppy.
Selvedge: Braided navy blue flat braided.
Fringe: 1/2in naturally colored plain weave with a brown and red weft brocade.
Pile: 6mm
Warp: 1in long naturally colored cotton thread, knotted at base
Weft: Black cotton thread
Warp Depression: