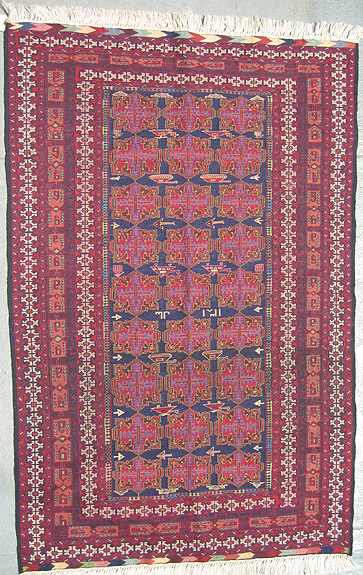 Turkmen Sumac (exhibited at Miami University Art Museum) Formerly 26.
Exhibited at:
Miami University Art Museum - 2007-09-07
Gallery13 - 0000-00-00
Gund Gallery at Kenyon College - 2017-05-26

This is a very unusual rug. There have been a couple of rugs related structurally to this rug, but those two rugs were pictorial.
The sumac weaving of this rug is very fine and made from very fine threads. Sumac looks like a chain stitch or crewel stitch. A weft loops around a warp then passes one warp over and one weft up, and repeat.
The wool is excellent quality with luscious sheen, and the "knotting" of the sumac is very fine. The design is really beautiful. The series of medallions with minor images in the negative space between medallions is beautiful.
Wool: Excellent. High quality material chosen for detailed work.
Sheen: Excellent
Handle: Sumac's thin structure leads to a floppy handle, but the density of the knotting gives this rug a stiffer feel.
Selvedge: Four cord dark brown wool wrapped typical of Turkmen rugs.
Fringe: Very beautiful undyed blond wool 2S2Z wool.
Pile: Flat weave wool
Warp: Turkmen arrow design end finish followed by overhand knots and three inch soft fringe.
Weft: Thin black wool.
Warp Depression:Warp depression is hard to discern in this kind of flat weave, so we are presenting it as flat, non-depressed, warps.