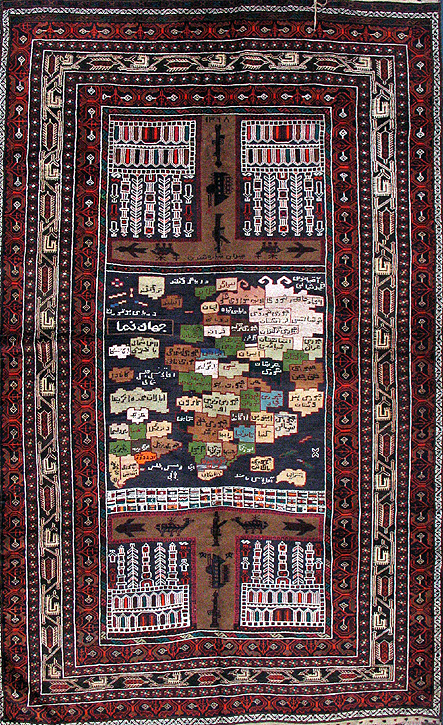 World Map Baluchi Rug with Mir Border
Exhibited at:
Gund Gallery at Kenyon College - 2017-05-26
John Jay College of Criminal Justice, President's Gallery - 2010-08-17
Denison Museum, - 2008-02-15
Bannister Gallery at Rhode Island College - 2002-10-04

This rug features a small very abstracted world map (the design of which is probably copied from an atlas as attributed by the maps on the bottom) captioned in Farsi script. Below the map are rows of tiny world flags. The top and bottom thirds of the field are composed of village scenes with RPGs, rifles, planes, helicopters, and firing tanks running through the roads. Small dated text is visible over the top edge of the map in the road. These scenes are all separated by brightly colored green, red, and orange geometric guard stripes.
A succession of different borders and guard stripes containing flowers, abstract and geometic motifs, and smaller shapes forms the outside of the rug.
Possibly influenced by the works of Alighiero Boetti.
Wool: Soft and short
Sheen: Very shiny
Handle: Floppy
Selvedge: Overcast dark brown goat hair
Fringe: Naturally colored wool plain weave with tufts of alternating black and red wool, ends have black and grey weft brocade (but has been damaged on the bottom)
Pile: 5mm
Warp: Long loops of naturally colored wool with some brown.
Weft: Double grey wool
Warp Depression:No warp depression