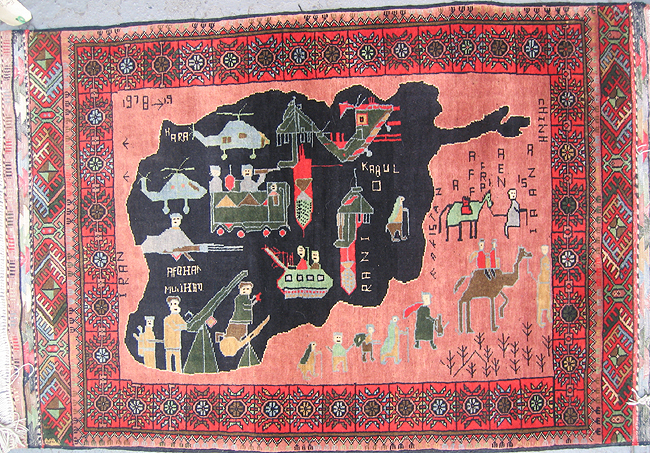 Older Map Afghan War Rug (Listed as rug 1021 in Miami U show)
Exhibited at:
Miami University Art Museum - 2007-09-07
Gund Gallery at Kenyon College - 2017-05-26
Bannister Gallery at Rhode Island College - 2002-10-04

Tightly woven, very soft and comfortable underfoot. A black silhouette of Afghanistan is filled with figures with guns, tanks, helicopters, and canes. Figures ride camels and lead horses away from the country with canes and walking sticks.
Green, blue, yellow, and brown geometric medallions form a border around the scene and another set of thick bands of geometric shapes frames either side of the rug.
The elaborate kilim adds even more intricacy to the craftsmanship.
Features canvas 'tube' on back to hang from a dowel.
Wool: Soft, machine spun. Dense and Uniform
Sheen: Medium quality luster
Handle: Soft, Dense and Pliable
Selvedge: 3 cord black wool
Fringe: White cotton with multicolored wool kilim end. Black and white bands of weft substitution.
Pile: Fine wool
Warp: Off white cotton
Weft: Black cotton
Warp Depression:Fully depressed