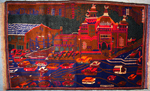 ID#:1437,
Victoria St Landscape Rug
This rug is in new condition,and it was purchased in 2003.

The origin of this image has been debated considerably, but my conclusion is that it is the Blue Mosque on Victoria Street in Singapore. Here is a blog post about it..

The clarification of the origin of this design came from a viewer of warrug.com. Getting feedback and community driven input is the reason I started this site in the 1990's, so if you have any ideas, input, corrections or suggestions, please contact me.

Previous and outdated description:
Max Allen, in his descriptions in Canada's Textile Museum Exhibition, describes this image thus:
""Flinders Street Station in Melbourne was built in 1854. It is the oldest urban railway station in Australia, and the busiest station in the southern hemisphere.""
. I was told by an Afghan friend that it is the Sultan Hussein Shrine, but I suspect Max is correct.