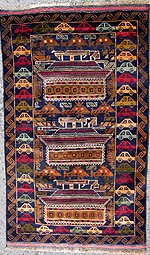 ID#:1477,
Three Big Tanks, Six Small Helicopters and Car Border
The strong design and bold colors employed in this rug make it a beautiful example of a contemporary war rug. The car border is a good indication of a rug woven since 2003. (The predominance of cars in patterns where they were not previously found could be caused by what Kevin Sudeith calls the ""feedback loop"". The ""feedback loop"" is where internet based discussions about war rugs in turn influence production of the newest war rugs. In this example, warrug.com has name a style of war rugs ""Car Style"". Car styel do include cars, but were more disntinctive for their exceptionally fine, lustrous, and translucent wool. The new rugs may emmulate the car motifs, but they fail to employ the distinctive wool of 1980's war rugs.)

Digression aside, this rug shows strong desing and good color. White outlines work well at getting tanks to pop, while brown helicopters push helicopters back in pictorial space.