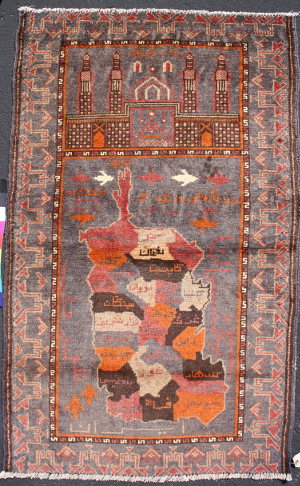 ID#:272,
1990 Dated Prayer War Rug w/Afghan Map

Duplicate ID - More info here
This is an older war rug in good condition with some flaws. First off, there is some damage to the selvedge, the ends have been reduced, and there is some minor moth damage in a few places. These flaws ALONE would add thousands of dollars to the price of any rug. ;)
Seriously though, the flaws are there, but please allow the staff at warrug.com to point out some of the reasons that in spite of these, this rug would be the highlight of any war rug collection. There have been many weavers making war rugs for enthusiasts of 2002 war rugs with a map after the US entered Afghanistan. This is not one of those. This is a war rug we have loaned out to museums and galleries from the Soviet Era invasion of Afghanistan. This war rug has not only a map of Afghanistan with all the Provinces and surrounding countries written in Farsi, and is dated in Farsi, but it is also a war rug that is a signed work of art. Its age, the uniqueness of a map rug from that time, and the fact that it has war themes makes this rug rare and valuable. Then, throw in the AMAZING element of the fact that it also has a classic Afghan prayer rug design with a mosque and minarets and you can begin to appreciate how wonderfully fascinating this rug is.
This war rug is structurally sound and the border is nice. The charcoal blue field has softened into a charcoal grey and it is made from lustrous wool with an excellent sheen. The entire staff at warrug.com has agreed that this is the most spectacular war rug we have ever seen.
In a regional prayer rug format the pictorial image of a mosque is combined with an unusually detailed Afghan map, Farsi text, and war motifs. The border uses half of what O'Bannon calls "Bogolubov's 'Turkoman Line'". This border bas eliminated the vine form, but employs the freestanding intermediate designs. It shows the Eastern view of the Herat Mosque.