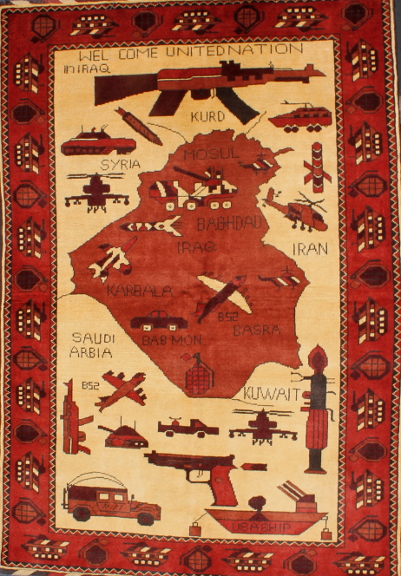 ID#:1358,
Original Humvee and Apache War Rug: Small Iraq Rug (Exhibition #26)(On Hold to June 2023)
The drawings of the humvee, the .45, and the Apache helicopter, which may be found on many war rugs available in 2022, originated in this small group of rugs from 2004. The prototype was this rug, and it does not include the humvee, .45, or the Apache. The true progenitors of this design are the silk map rugs showing provinces from the 1930's. There is a giant rug in the presidential palace in Cairo made by the same makers. More images of silk Iraq rug, price on request.
These Khargai Iraq rugs were begun before the tragic death of Sergio Vieira de Mello in Baghdad. The rug shows an Iraq map surrounedd by American weapons. The border designs is the same as Afghan map Khargai borders on earlier war rugs. The attack helicopters and humvee are remarkably well drawn. These are the first Afghan map rugs not depicting Afghanistan. The vocabulary is constant but the subject has changed. These rugs demonstrate the degree to which war rugs have become an established vernacular in Afghan art.