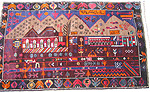 ID#:460,
Small Village Afghan War Rug
This war rug was woven in 1997 in Herat, Afghanistan. It stems from an interesting tradition of Herati pictorial war rugs. An example of this can be seen on our collectors page, war rug I.D. number 7. This is made in the same style and tradition and incorporates similar images. Rugnumber 7 is loaned to museums and galleries throughout the world. The border of this rug has beautiful color. This border pattern is indicative of a particular group of rugs made outside Herat. Note the similarity to the main border of rug 7, as well as this rug #227, and #263
The main structure in this war rug found on the left is a mosque. In the mountains, on the right, is an anti-aircraft piece. Just to the left of that are two red and blue geometrical images. These represent the Mujahadeen hiding out in so-called pill boxes, where they dig out an area to safely protect themselves from detection as they fight. There is text written in Farsi throughout this war rug. This is a beautiful rug with outstanding colors and forms. Sure to be treasured and an interesting conversation starter, to boot.