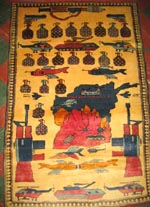 ID#:153,
Tora Bora Chechen w/ Light Field
The condition of this war rug is new. This rug is very unusual and this, along with rug #154, is something that even the staff at warrug.com has rarely seen.
The pattern in this war rug is somewhat unusual while at the same time, it is one that may be familiar looking. This is because of its realization of the classic Chechen structure, wool, and colors. Chechens are a mill-spun wool, synthetic-dyed version of the Afghan Kazak. You may recognize certain colors such as the rust red, navy blue, and abrashed light blue commonly found in Kazaks but until now, never seen in war rugs. Other similar qualities are the wavy weft threads with a grey wool warp and the unmistakable red kilim skirt. Most Chechens have a strong geometric pattern. The unique use of these two styles, the traditional Chechen juxtaposed with the new war themes makes this war rug outstanding.