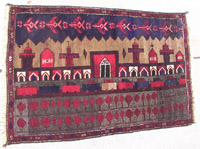 ID#:61,
Armored Column & Mosque (dark foreground)
Like rug number 61, this rug depicts the city of Herati with an armored column rolling into town and jets with anti-aircraft fire over the mountains to the north of town.
This appears to be a night scene. The colors are much darker than rug 61.
This rugs colors are very nice. The foreground grey looks to be natural undyed wool, and it has very nice abrash. This grey has a very nice speckling of light and dark grey. The tan color in the mountains is natural wool of a different color. It too has very nice, subtle variations of tone. Both of these low hue colors contrast beautifully with the primary red and blue in the mosque.
Like rug 61, the patterns of the objects depicted is excellent. The round red trees and their trunks, the rectilinear armored column, the pointed arches of the mosque, the jagged mountains and the fanciful airplanes all contrast beautifully. These different shapes set up an attractive rhythm in the rug.