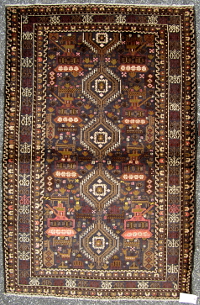 ID#:1527,
Two Red Tanks War Rug
Really good example of a 1980's rug. The pattern (with a series of small medallions with a jagged white outline) is an old one documented in books about antique rugs. There are similar contemporary designs which originate in Khorrassan around Mashad in eastern Iran. The Iranian iterations of this pattern are red and black, typically with a black field, and the medallions a mix of red, orange and white.

This rug is in very good condition but has a couple of noteworthy condition issues: First, a bright pink color used in tertiary images is fugitive, so there is tip fading. Secondly, there is considerable sarnach as well as short lines where the pile is displaced by very depressed warps.