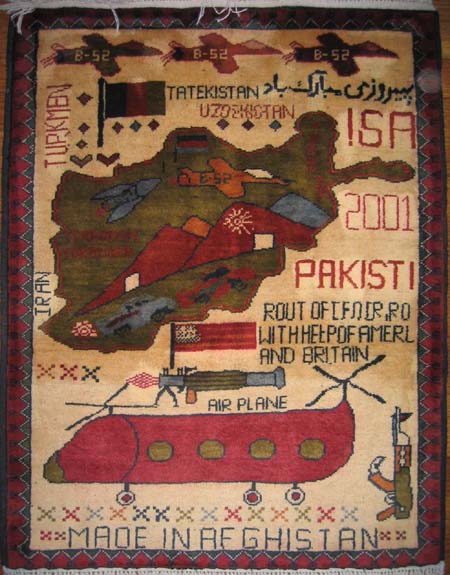 Small Afghan Map War Rug with Sea Knight Helicopter
Exhibited at:
29 Items - 0000-00-00

ID# 301
Date: 2002
-:-
Size 24 x 31 inches
(61 X79 cm)
Knots/Inch:
10 h X 13
Origin: Afghanistan
Style: -Sea Knight Tora Bora War Rugs,
Other examples of this style
Tribe: Turkman
The condition of this new Afghan war rug is excellent. There are of course a few places where there is some minimal bleeding of dark into light colors, but this is completely common in these types of new war rugs. There is some abrash in this rug.
This is a wonderful Tora Bora Afghanistan map rug. The B-52s are nice along the top and in the map, with a symbol of an explosion from a bomb in the mountain region. Of course, the highlight of this rug is the Chinook helicopter and there are not many of these types of war rugs with this image. It is marked with the text ""air plane"" between the Chinook and an RPG. There is the text 'Rout of terror with help of America and Britain' as well as the names of the bordering countries. Also included within the map itself is the phrase 'terrorism torabora'. This war rug is labeled as being made in Afghanistan. It marks the date '2001' along with 'USA' referring to the time when the US first invaded Afghanistan. There is some text in Farsi towards the top, as well.
The flags represented in this war rug are the Afghani flag and the flag right above the RPG is not clearly defined, but the experts in our office believe it is supposed to be the American flag.
Wool: The wool is of good quality.
Sheen: The sheen is minimal, which is typical of these new rugs. This will improve over time as the wool oxidizes.
Handle: The handle of this war rug is firm.
Selvedge: The selvedge consists of 3 cord wool flat warp wrap.
Fringe: The 2 inch fringe on this war rug has Persian closure.
Pile: 3mm
Warp: White cotton
Weft: Black cotton thread
Warp Depression:Full warp depression, double knotted