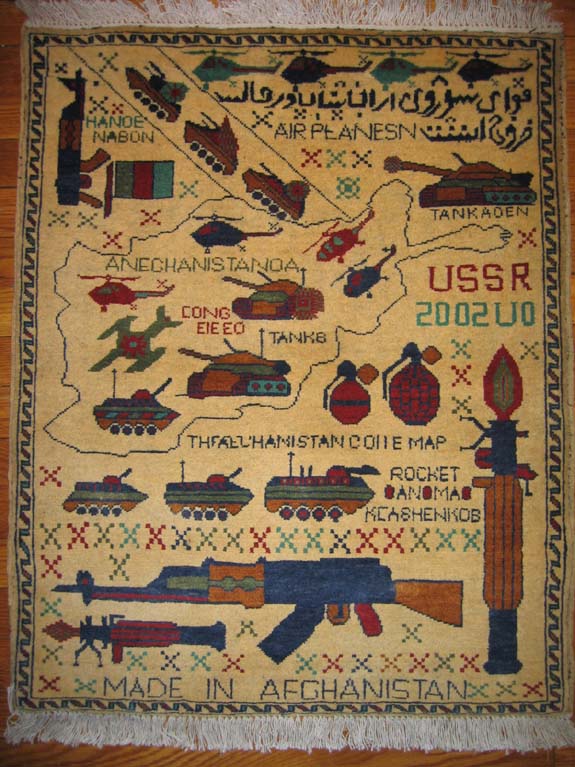 All Yellow Soviet Story Afghan War Rug
Exhibited at:

The condition of this new Afghan war rug is excellent. It is densely woven with strong wool.
This rug is an example of the Soviet story sub style of the small Afghan map war rugs. This rug is a transitional piece between the Soviet story rugs and the ""War on Terrorism"" rugs. This is clear from the oxymoronic text saying ""USSR 2002"". Funny.
The Farsi text on the top of this rug says 'The army of the Soviets is leaving Afghanistan"".
This style of rug has been fairly plentiful for the last couple of years, and warrug.com searches for unusual and atypical examples of this kind of rug. One of the unusual features of this rug is that the map of Afghanistan is the same color as the field. This gives the rug a more unified composition, and the pattern more of an ""all over"" look. The war motifs in this rug are nicely arranged throughout the field. It is particularly attractive.
Until the US eliminated the Taliban regime, this style of rug was woven by refugees in Pakistan. After we took out the Taliban these weavers were able to return to their native homes and produce these rugs around Mazar I'Sharif and Sherberghan.
Wool: Very Good
Sheen: Nice
Handle: Firm
Selvedge: Four cord yellow wool. The yellow is very unusual and works well with the field color.
Fringe: Persian closure, two inch fringe.
Pile: Shorter than most of these rugs, 4mm.
Warp: White cotton.
Weft: Black wool
Warp Depression:Fully depressed warp