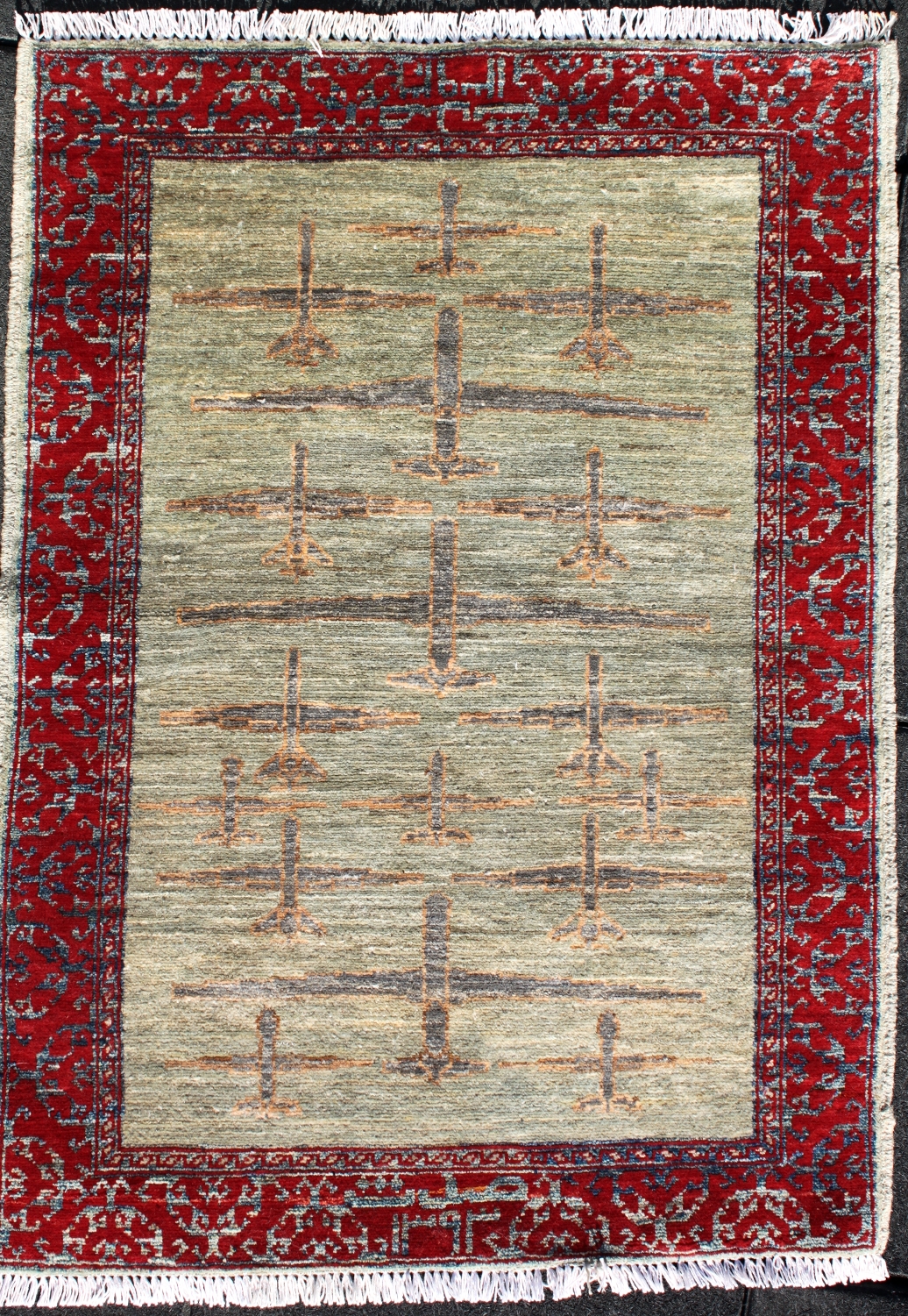 Blue on Blue with Red Borders War Rug featuring three types of UAV's used in Pakistan. - First Batch
Exhibited at:

ID# 1566
Date: Woven summer 2014
Delivered to Company in November 2014.
Published in USA December 12, 2014
Price:$ 0
Size 35 x 49 inches
(89 X124 cm)
Knots/Inch:
8 h X 8
Origin: Pakistan
Style: -Three Drone War Rug,
Other examples of this style
Tribe: Turkman
This rug is the first to show three types of unmanned aerial vehicles (UAV's), or drones, apparently used in Pakistan during the past few years. This rug features the drones in their relative sizes. The Global Surveyor is a jet powered drone used in surveilance and is the largest shown. The medium sized drones are Reaper drones and the smallest shown are Predator drones.

The colors of this rug are, by all accounts,. beautiful. Ther are three colors of blue with very subtle changes between the drones and the blue field/sky.

The wool in this rug is the best quality hand spun wool from Ghazni Afghanistan, and the colors are all contemporary vegetable colors.
Wool: Excellent. Best quality raw wool has been chosen, and then it's carded and spun by hand to preserve it's beauty.
Sheen: Best
Handle: Very sturdy. Depressed warps, or "double knotting", make the rug's handle stiff and strong
Selvedge: Two cord, flat, overcast in light blue.
Fringe: Short cotton fringe with Persian closure
Pile: 5mm
Warp: White cotton
Weft: Double shoots of thin white cotton
Warp Depression:Pretty much all full warp depression, a.k.a., "double knotted".