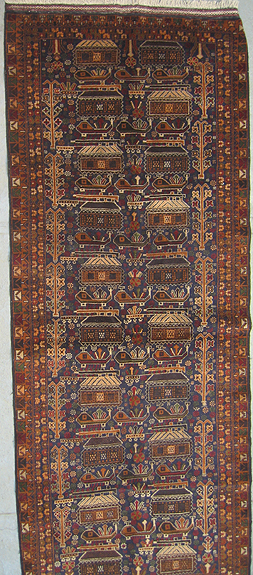 Baluchi Runner War Rug P (Pair 1/2)
Exhibited at:

ID# 1310
Date: 1980s
Price:$ 1
Size 38 x 105 inches
(96 X267 cm)
Knots/Inch:
9 h X 11
Origin: Afghanistan
Style: -Bomber / Helicopter / Tank War Rugs,
Other examples of this style
Tribe: Zakini
One of a pair (1311), this earthy rug features rows of helicopters, tanks, and branches of flowers. The border is made up of rows of flowers and connected geometric shapes.
Has a .5in hole where three warps are broken and a small number of knots are missing (10-12).
Wool: Soft dense short
Sheen: Shiny
Handle: Medium floppy
Selvedge: Tightly braided brown goat hair
Fringe: Reduced kilim with grey cotton persian closure. Red white and blue diamond weft substitution pattern.
Pile: 6mm
Warp: Dense naturally colored wool
Weft: Black cotton thread
Warp Depression:Medium warp depression