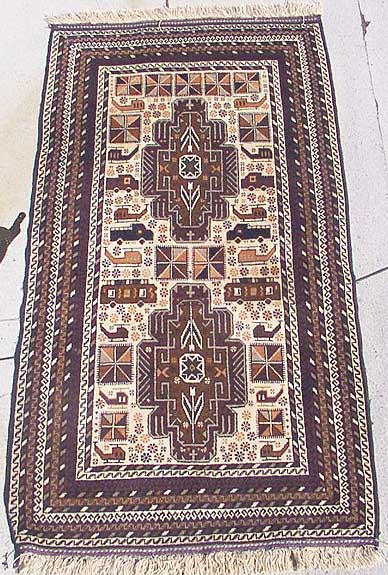 White Medallion Afghan War Rug
Exhibited at:

ID# 3
Date: Contemporary 1990s
Price:$ 0
Size 45 x 84 inches
(114 X213 cm)
Knots/Inch:
8 h X 9
Origin: Pakistan
Style: -Latif Chel War Rugs ,
Other examples of this style
Tribe: Baluchi
This rug is the first of this style we have received. The type is typified by a light field, Beluchi 8 lobed medallions and subtle war motifs. This rug has suffered some damage not seen in the photos. The brown has run into some of the white field and about 4 inches of selvedge has been damaged, which can be easily repaired. Please contact us if you are interested.
Wool: Medium grade, somewhat dry.
Sheen: Moderate.
Handle: Pliable, floppy, solid.
Selvedge: Braided goat hair overcast.
Fringe: Navy kilim with 2 braided rows of weft brocade.
Pile: wool
Warp: Black wool.
Weft: Natural wool.
Warp Depression:Minimal