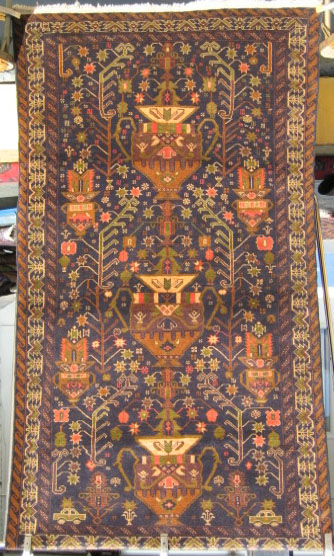 Vase War Rug with Green Cars in Bottom Corners
Exhibited at:

ID# 130
Date: Late 1980s early 1990s
Price:$ 0
Size 44 x 78 inches
(112 X198 cm)
Knots/Inch:
8 h X 10
Origin: Afghanistan
Style: -Vase of Flowers War Rugs,
Other examples of this style
Tribe: Zakini
Of all the older war rugs we have offered recently, this is one of the nicest. This war rug is in perfect condition and it is nicely aged with very good sheen and beautiful oxidation of the color. The back has a burnished, shiny look, typical of older war rugs.
The particular olive green in many war rugs, including this one, appears more olive green at the tips and a brighter green closer to the knots.
The color palate of this war rug is very nice. None of the colors are too bright, and all the colors are muted: burnt umber, raw sienna, dusty rose is the brightest.
The pile is very even and consistent. The beautiful abrash appears more pronounced in the pictures than in real life.
Wool: Excellent
Sheen: Excellent, even, glossy, smooth, superb.
Handle: Floppy and strong.
Selvedge: Expertly done goat hair braided overcast.
Fringe: One inch plain weave kilim with braided closure at top and overhand knots at the bottom. Short fringe.
Pile: 5mm super wool
Warp: Natural wool
Weft: Grey cotton.
Warp Depression:The warp is depressed on this war rug consistently 60 degrees