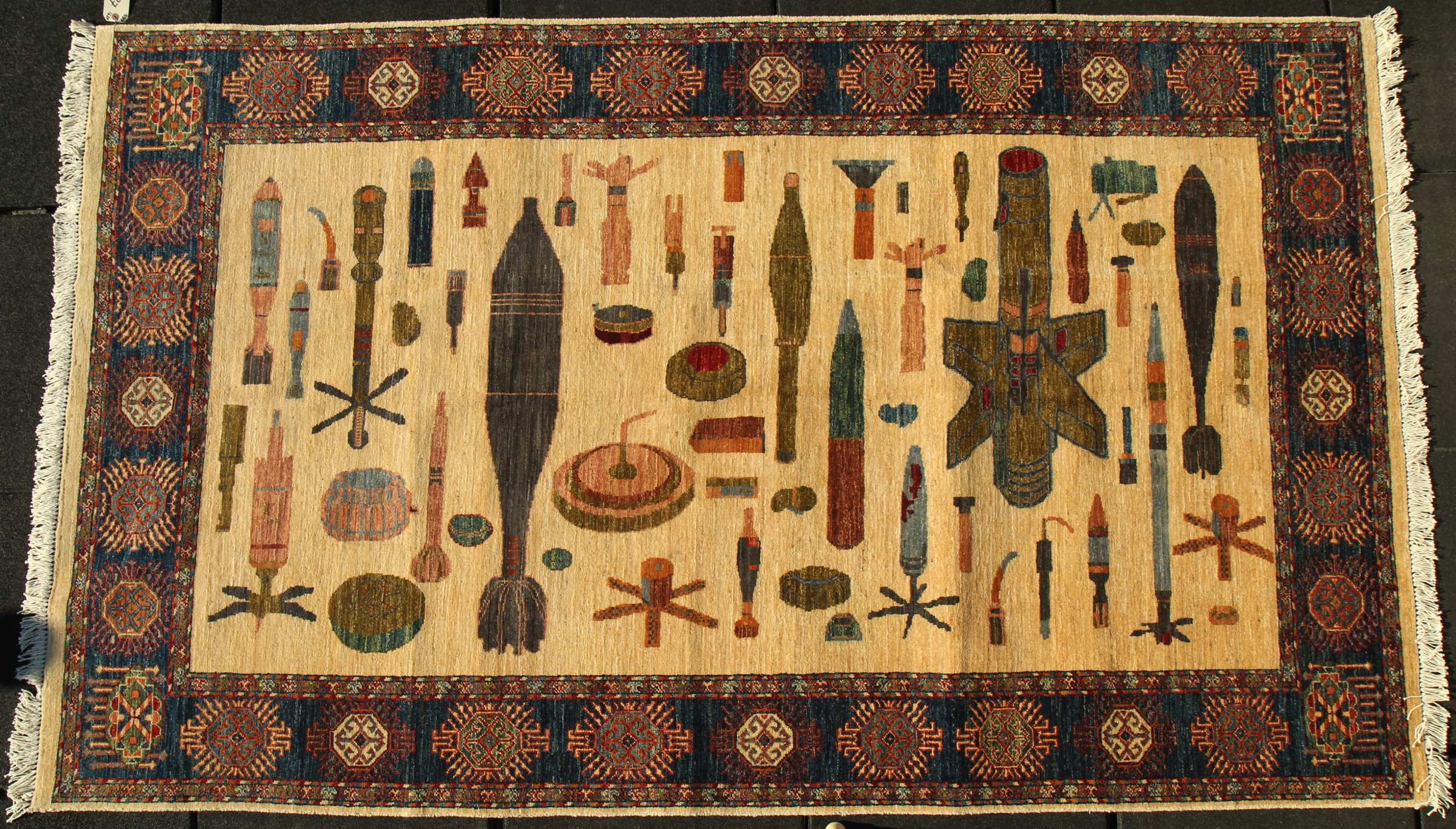 Light field, Smaller size, UXO or Unexploded Ordnance Rug. First edition.
Exhibited at:

ID# 1687
Date: 2020 Completed 2020 Received by company November 2020 Published in USA November 2020
Price:$ 3750
Size 60 x 101 inches
(153 X257 cm)
Knots/Inch:
9 h X 10
Origin: Afghanistan
Style: -Unexploded Ordnance,
Other examples of this style
Tribe: Turkman
This rug, and the group of which it is a part, are all exceptionally well made from the best quality materials. The designs are well organized with a strong composition and design. Borders are beautiful, particularly the corner motifs.

Excellent knotting, design, and materials. This is one of six rugs received in late 2020. Three rugs were 6'6"x 12 feet, and three rugs were this size, roughly 5x8.5 feet.
Wool: Excellent. Best quality wool.
Sheen: Excellent. Top grade wool and given a lusterous wash
Handle: Very firm an strong, which is related to warp depression. Well knotted rugs with full warp depression tend to be very stiff and strong
Selvedge: Integrated two cord flat overcast with buff, field color, wool.
Fringe: Two inches white cotton with Persian closure.
Pile: 5mm thick pile
Warp: White cotton
Weft: Two cords thin white cotton.
Warp Depression:Full warp depression, a.k.a. double knotted. Each knot, or pixel, in a rug uses two adjacent warp threads. When the warps are not depressed, they sit on the same plane, so they appear flat on the back, and from the back you can see both nodes. When the warps are full depressed, one warp sits almost on top of the other warp, so when viewed from the back, one can only see one node of each knot.